The Center for Equity for English Learners (CEEL) enriches and supports the work of schools, school systems, education/community partners, and policymakers through an assets-based approach. CEEL exists to serve the unique academic, social, and language needs of linguistically and culturally diverse students in California and throughout the nation. CEEL's staff provides consistent high-quality services including research and evaluation, policy and advocacy, and resources and professional learning.
CEEL Research - Annotated Bibliography
The Center for Equity for English Learners announces its newest publication, Ensuring Equity and Excellence for English Learners: An Annotated Bibliography for Research, Policy and Practice. Comprised of 350 annotations of both recent and seminal literature, this annotated bibliography supersedes a previous version and serves as a resource for researchers, policymakers, educators, and advocates who are working for equity and excellence for ELs.
Our goal was to provide a comprehensive selection of works focused on theory, research, and practice. The annotations are a result of purposeful searches of 23 topics in empirical and theoretical articles from peer-reviewed journals, books, book chapters, and reports from leading scholars in the field. Among the topics addressed relevant to EL education are broad areas such as bilingual teacher preparation, teaching and professional development, university and district partnerships, digital learning for ELs, social-emotional development, culturally sustaining pedagogy, and English Language Development (ELD) for elementary and secondary level students. The Integrated ELD (content instruction) topic is subcategorized according to specific disciplines including English language arts, history, mathematics, science, visual & performing arts, and STEM.
Please see our Research & Evaluation page for more CEEL research.
CEEL Publications - English Learner Master Plan Playbook
The Center for Equity for English Learners is proud to announce the publication of our ENGLISH LEARNER MASTER PLAN PLAYBOOK: Developing Equitable Local Education Policies for Multilingual and English Learner Students. The playbook provides tools for educators, families, and community members to engage in policy dialogues and development processes to support the creation of a local policy document - the English Learner Master Plan.
CEEL offers interactive sessions and technical assistance to help LEA teams create a plan to develop a district-wide English Learner Master Plan that is aligned to the research-based CA English Learner Roadmap policy and focuses on visionary policies, programs, and services that ensure equitable opportunities and outcomes for English Learners. Participants engage with the resources included in the CEEL English Learner Master Plan Playbook to develop a strategy for beginning or refining their approach to writing components of their EL Master Plan.
Please visit our English Learner Master Plan page for more information.
CEEL Signature Programs
Transitional Kindergarten Teaching Certificate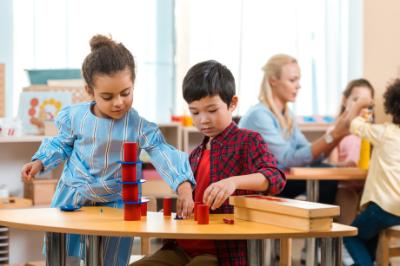 Join our virtual professional learning community of educators dedicated to excellence in teaching and learning for Dual Language Learner students! CEEL-LMU was one of the first institutions to offer a certificate in Transitional Kindergarten (TK) and Early Childhood Education (ECE). This distinctive certificate provides TK/ECE educators with expertise to create and design effective learning environments, curriculum, and instruction that are developmentally, culturally, and linguistically appropriate for Dual Language Learners.
The Transitional Kindergarten/Early Childhood Education Teaching Certificate is offered virtually and consists of a three-course program of study with a combination of real-time webinars and online sessions. This program expands the knowledge, skills, and dispositions of credentialed multiple subject educators.
For more details, please see our dedicated Transitional Kindergarten page.
Leadership for Equity in English Learner Education
Engage with colleagues in exploring and engaging with opportunities to develop leadership and advocacy skills to meet the growing demands for PK-12 biliteracy/multilingual programs.
Our Leadership for Equity in English Learner Education provides educators from any linguistic or cultural background, with current research on biliteracy and knowledge in programmatic and instructional issues to increase student achievement and language learning. Instructional coaches, administrators and teachers will be equipped as leaders and advocates by this state-of-the art virtual learning community. Participants will engage in inquiry-based discussions and learning to develop essential leadership characteristics and will be empowered to embrace advocacy roles to support system-wide change necessary to increase equitable access and delivery of biliteracy programs.
For more details, please see our dedicated Leadership for Equity page.
Current CEEL Highlights
Celebrating 15 Years of Equity Advancement
Congratulations to the Center for Equity for English Learners on its 15th Anniversary and thank you to all who joined in the celebration, hosted at the California Club on May 12, 2022. We would also like to offer our congratulations to Dr. Magaly Lavadenz, who was honored at the CEEL 15th Anniversary Celebration by being named the second Leavey Endowed Professor of Moral and Ethical Leadership in the LMU School of Education. For a glimpse into the celebration, you can view our Speaker Highlights video.
LAUSD Family Poll
The Center for Equity for English Learners has partnered with Great Public Schools Now to produce this year's Annual LAUSD Family Poll. Learn about how Los Angeles families about education as we continue into the third school year of this historical pandemic.
CEEL Policy Brief: Uplifting the Perspectives and Preferences of the Families of English Learners in Los Angeles Unified School
In this brief, we examine findings from a representative poll of Los Angeles Unified School District English Learner families. In what follows, we summarize core findings on the makeup, preferences, and behaviors of LAUSD's EL family population. We conclude with recommendations for improving district interactions with their EL students and families.
A Pathway to Equitable Math Instruction
In partnership with The Ed Trust-West, members of our Center for Equity for English Learners team served as feedback advisors in the development of the A Pathway to Equitable Math Instruction toolkit. We are pleased to share this newly released resource that can be accessed at www.equitablemath.org.
Distance Learning with Common Sense: Equitable Distance Learning for English Learners
How can we best meet the unique academic, social, and language needs of students who are culturally and linguistically diverse? Dr. Elvira Armas, Director of Programs and Partnerships from the Center for Equity for English Learners (CEEL) at Loyola Marymount University, and Mayra Lavadenz and Charlene Fried, accomplished teachers of English learners joined Common Sense for a discussion on equitable distance learning for English Learners. This conversation with Vicki Saylor, AZ Regional Manager for Common Sense Education shares key considerations for implementing equitable design principles, best practices for distance learning, and research-based resources to support English-language learners' social and emotional learning as well as their language development.