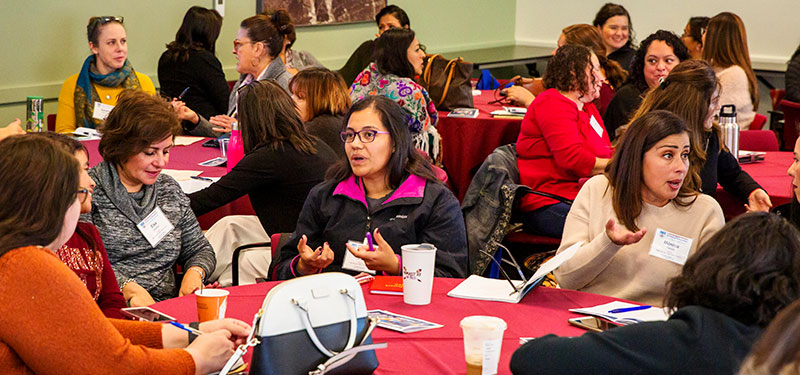 For nearly three decades, the annual conference Jornada Pedagógica Internacional para la Educación Multilingüe has offered training and support for educators who teach in bilingual and dual-language immersion programs. Held entirely in Spanish at LMU School of Education and hosted by its renowned Center for Equity for English Learners (CEEL), it has drawn attendees from across the country for the opportunity to learn and train with CEEL's experts.
Earlier this year, the shift to a virtual conference brought this annual event its largest audience to date. On February 6, 2021 more than 200 people took part in the 28th Jornada conference, including educators from 25 school districts across the country and VIPs from the Mexican and Spanish Consulates. "The online format helped us tap into a wider audience than we'd have typically reached with this event," says Magaly Lavadenz, Ph.D., distinguished professor at LMU and founding executive director of CEEL.
The growth of the Jornada comes at a time when bilingual teacher preparation is in greater demand than ever. In 2016 the passage of Proposition 58 in California freed up schools in the state to teach English learners in their native languages. Communities around the state and across the country have also expressed increasing interest in dual-language programs in recent years. Over time, Jornada attendees have expanded to include not only educators, but also professional developers and Spanish speakers and families who want to promote the use of Spanish in their homes and communities. Current co-sponsors include the Los Angeles Unified School District, the California Association for Bilingual Education, and Early Edge California.
At this year's conference, CEEL awarded the 3rd Annual Alma Flor Ada Award en pro de la Justicia Social to Verónica Covarrubias '00. A first-grade teacher in the dual immersion program at Jefferson Elementary School in the Santa Ana Unified School District, Covarrubias earned a liberal arts degree and a bilingual teaching credential at LMU Bellarmine College of Liberal Arts and LMU School of Education. She received the award for excellence as a bilingual teacher and for her focus on social justice and advocacy for English learners. "I once wanted to drop out of school and was also told that I was 'not going to be a teacher'," she said. "Now, as a teacher, I push my students to work to their potential and to make the world a better place."
Though CEEL intends to return to hosting Jornada in person, its leaders were encouraged by the high demand for the online gathering. "Over the 28 years we've hosted this event, one of the hallmarks of the Jornada has been the warm professional learning community that is established among attendees," says Lavadenz. "This appears to be the case whether they've met in person or only online. No matter the format, it is our hope that attendees learn from the experts as well as each other, and continue to stay connected on these matters."