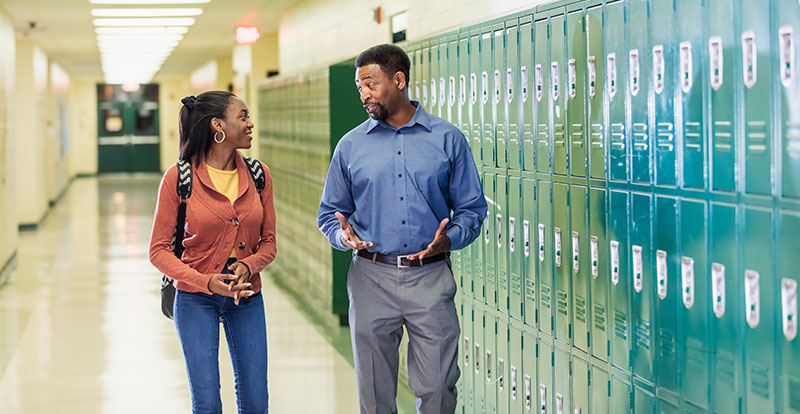 As part of an unprecedented investment of resources by a public school district specifically targeted toward improving outcomes for Black students, the Los Angeles Unified School District andLMU School of Educationhave partnered in the design and delivery of the Leadership and Equity Academy for Principals (LEAP Academy), a two-year program that began in fall 2021 for principals of the first 53 schools receiving support as part of LAUSD's Black Student Achievement Plan.
That plan, adopted by LAUSD in February 2021, identified the schools based on criteria that include their overall number of Black students, as well as data on those students' English and mathematics proficiency, absenteeism, suspension referrals, and attitudes toward the school that identify them as being at risk.
For people to learn in a meaningful way, the content has to be connected to things that they value, and they have to understand how this knowledge will translate to their lives afterwards," says Dr. Jared DuPree, senior director in LAUSD's Office of the Superintendent. "These students also have to feel valued, which means seeing people who look like them in the curriculum. Most Black students aren't learning in a meaningful way, going back decades. The LEAP Academy gives practical strategies and tools for the principals who are directly responsible for these students' teachers to provide culturally responsive leadership and support."
The LEAP Academy includes five modules covering culturally responsive leadership; accountability and progress monitoring; development of teacher capacity and leadership; networking and strategic partnerships; and the creation of a healthy school culture and climate. The learning experiences are prepared and delivered by a mix of SOE faculty and LAUSD directors and principals, with guest lectures by consultants and other professionals in the field. "Working side-by-side with our LAUSD partners allows us to merge theory and practice, which is part of our SOE's mission," says Dr. Darin Earley, who has spearheaded the SOE side of the partnership as director of the LMU Family of Schools, a university collaborative dedicated to promoting student success and educational equity for nine LAUSD schools, four Catholic schools and three charter schools in the Westchester and Playa Vista communities around LMU. "The through-line for all these modules is what principals can do to positively impact outcomes for Black students. We aren't just looking for feel-good moments; we want to give them practical tools that they can begin to implement tomorrow."
The learning objectives for the principals participating in LEAP include developing the ability to more effectively address challenges and build skills in their teachers through professional development, and creating an imperative for improvement through mutual commitment and accountability. The academy also seeks to assist principals in developing and sustaining a school environment in which Black students are accepted, valued, cared for and encouraged to be active and responsible members of the school community. "These students have not been viewed as partners in the process," Earley says. "Too often, education is seen as something we're doing for students, not recognizing their agency, their cultural capital, and what they can contribute." In addition, the program encourages building productive partnerships with public- and private-sector stakeholders. "We want to connect our Black students to local business owners for internships and local community centers for recreational opportunities," Earley explains. "Community schooling empowers these young people to understand they are valued by everyone in the area."
Both Earley and DuPree recognize that the LEAP Academy isn't a quick fix that will solve problems immediately. "But the hope is that in five years we'll see a significant change in outcomes, and in 10 years there will be a change in the trajectory for Black students," says Earley.