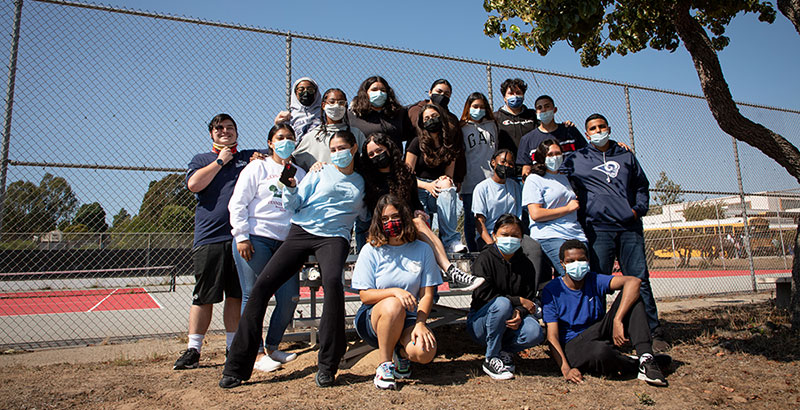 As a high school freshman, Fatima Galvez M.A. '20 was determined to go to college. There was only one problem. "I had no idea how to get there," she says. Galvez's parents, who had immigrated to the U.S. from Mexico as young adults in search of a better life, didn't make it past the fifth grade. They supported their daughter's ambitions but didn't know how to advise her.
Fortunately, Galvez's aunt encouraged her to look into the resources available at Westchester Enriched Science Magnets, the Los Angeles Unified School District campus where Galvez was enrolled. That's when Galvez learned about Upward Bound, a federally funded college preparatory program operated by LMU for WESM students from low-income families in which neither parent earned a bachelor's degree.
Galvez, one of the first 50 students to be accepted into WESM's Upward Bound program, became the first in her family to attend college, earning a bachelor's degree in anthropology with a minor in education from the University of California, Santa Cruz. After spending several years as a teaching assistant, she enrolled in LMU SOE, graduating with an M.A. in bilingual education along with a preliminary multiple subjects credential and education specialist credential. She's now in her second year as an English teacher at Broadway Elementary in Venice, California, a bilingual LAUSD school.
"Upward Bound was the stepping stone I needed," Galvez says. "There were so many wonderful people who cared about me and guided me through the process of becoming college-ready. And when I realized I could support other young people in the same way, I decided teaching was something I wanted to pursue."
A national program whose LMU project was established in 2007, UB—along with Upward Bound Math & Science, established in 2017—provides educational and personal support services to approximately 120 WESM students each year toward the goal of increasing the rates of high school graduation, college enrollment, and college graduation for its participants. Services include academic advising and workshops, tutoring, college visits, assistance with the college and financial aid application process, enrichment and leadership opportunities, and a residential summer school experience on the LMU campus. The results attest to the SOE-based programs' impact: 98% of participants graduate from high school, 92% go on to college, and 65% graduate from college within six years.
"These are students who have the potential and desire to pursue a college education, but face obstacles that are typical of traditionally underrepresented groups, such as knowledge and opportunity gaps," says Norma Romero Ed.D. '20, founding director of LMU's UB and UBMS programs, which are funded by a grant from the U.S. Department of Education along with generous contributions from LMU. "We try to level the playing field by providing information, support, and guidance to allow them to succeed."
Romero points out that although UB and UBMS don't specifically encourage WESM students to consider careers in education, it's not surprising when students choose that route. "After seeing how much the guidance and nurturing made a difference for them, a lot of them want to pass that along," she says. "And as first-generation college students who are aware of the struggles students from disadvantaged backgrounds experience, when they become teachers that can make for powerful connections with their students."
Romero adds that the programs don't promote LMU over other universities, although a number of students have opted to take that path, inspired by their time living on the campus during the summer residential program. Josh Polanco, another UB graduate, is currently enrolled at LMU SOE in its Teach for America preparation program. "My Upward Bound experience was probably the highlight of my whole high school experience," he says. "Now, as a TFA teacher, my goal is to foster a community where all my students feel safe, seen, heard, and validated. I want to ensure that all my students feel the same support and love that I got when I was in UB."
Galvez was similarly inspired. "Being around LMU, I was able to experience the campus and see how the School of Education would allow me to make great connections with my professors, and learn to teach in a socially and culturally responsive way," she says. "I love everything about what I'm doing now. I have students from diverse backgrounds, and I share my stories with them in ways that they relate to. My experiences through Upward Bound and at LMU made this possible."