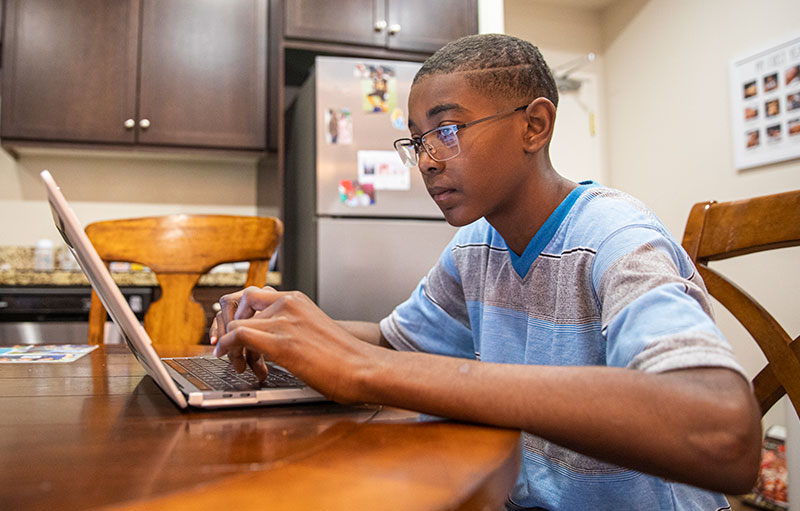 The pandemic-necessitated transition to distance learning in the Los Angeles Unified School District (LAUSD), beginning in the spring of 2020 and continuing through the 2020-21 academic year, caused a substantial disruption in K-12 education. Although all students were affected, data released during the school closures showed that Black children in South Los Angeles had the least access to instruction and the largest learning gaps resulting from online schooling.
But Terese Aceves, professor of school psychology at LMU School of Education, knew it was essential to look beyond merely making up lost ground. "The pandemic exacerbated inequities related to instruction and access that have existed for many years," Aceves says. "It's not just about helping these students catch up; it's about shifting how we meet their needs." She began engaging in conversations with fellow LMU colleagues as well as community partners about starting a program to holistically support the most vulnerable Black students.
The result of her conversations was a new program called Cultivating Young Black Excellence (CYBE), which debuted in summer 2021 as a partnership among LMU groups (including LMU SOE, the Black Alumni Association, and the Center for Service and Action); the grassroots LAUSD parent organization Speak UP; and the Los Angeles Urban League. CYBE pairs Black LMU students with young Black scholars in South Los Angeles for both free one-on-one online academic tutoring and social-emotional mentoring. "This allows these young scholars to see somebody who is further along the path in their school journey—someone who can show them the possibilities and help them understand the strengths they bring to the learning process that can help them achieve their goals," Aceves says.
CYBE offers tutoring in academic areas identified by participating families, typically math and reading. For the eight-week summer pilot, 22 LMU mentors from wide-ranging programs worked with approximately 40 K-12 scholars. Under Aceves' leadership, the SOE provided professional development and ongoing support for the tutors; benchmark assessments and progress checks by candidates in SOE's school psychology program to support the young scholars' growth; and an evaluation process that informed the program's expansion. The program has continued into fall 2021.
"CYBE has been a lifeline for young Black scholars whose families wanted to stem learning losses resulting from the pandemic and before," says Katie Braude, Speak UP's co-founder and CEO. "The partnership with LMU made it possible to recruit a group of highly motivated Black tutors who had access to high-quality training and support provided by Dr. Aceves and her team. We believe this was a key element in making the summer pilot program a success: In preliminary findings, 70 percent of participating scholars met or exceeded their academic goals this summer. That's a real achievement and we're excited to continue this collaborative effort."
Michael Lawson '75, president and CEO of the Los Angeles Urban League, says CYBE's power comes from combining academic assistance with mentorship from Black role models. "When you're helping a young person understand something they didn't understand before, that's impactful," he says. "But it's equally impactful to see someone who looks like you and is successful in their own right and say, 'I can do that.' I expect that many of the relationships between tutors and scholars will continue beyond this program. CYBE can serve as a rock that will be part of the growth of kids in communities that don't often see tutors. We're proud and honored to be part of this partnership."
The K-12 scholars weren't the only ones to benefit from the CYBE experience. The program's initial assessment found that 77 percent of the LMU tutors said they would participate in the program again, and 70 percent were moved to explore the possibility of a teaching career.
Jamila Blackburn, a candidate in the school psychology program at LMU SOE, tutored two scholars and believes she gained as much from the experience as her students. "CYBE taught me a lot of things that I will go on to use in my own practice in education," she says. "It was great to be able to see the progress the scholars made over the course of our sessions, and the time spent with them helped me believe in myself and know that I can do this type of work."