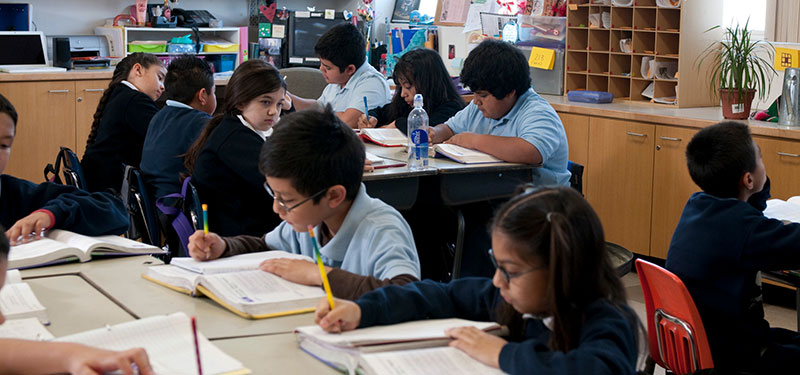 For the past several years, Catholic schools everywhere have faced challenges such as low enrollments and difficulty in retaining staff. Although dioceses agree that developing Catholic school leaders is a high priority, barriers of cost and distance often stand in the way, particularly in rural communities.
For nearly a decade, the LMU School of Education has partnered with the nonprofit Chicago-based Catholic Extension—which helps build vibrant Catholic faith communities in the nation's poorest regions—to offer a certificate in Catholic school administration, a one-year, online program for novice and prospective Catholic school leaders. To date, the program has served more than 35 dioceses, providing much-needed support in developing a pipeline of effective, faith-filled leaders in remote and rural locations especially. Financial support from LMU SOE and Catholic Extension covers 80 percent of tuition costs for enrolled students.
"Increasingly, superintendents are focused on the importance of Catholic school principals in fulfilling the roles of spiritual leader, instructional leader, and operational leader in close connection with a pastor or lay board," says Lauren Casella, director of SOE's Catholic School Leadership Academy. "This program serves our diocesan partners in the recruitment, formation, and preparation of these leaders."
The program's virtual format proved especially valuable in the wake of the sudden and dramatic shift to online instruction that resulted from Covid-19, Casella noted. Not only could instruction of candidates proceed as usual during the pandemic, but the format also gave them a solid foundation in virtual learning and school leadership using remote methods—knowledge that is both highly valuable and necessary for today's educators.
Graduates have consistently risen in the ranks of Catholic school leadership. In the last three years, they have been promoted to principal or president positions in Gaylord, Michigan; Yakima, Washington; Monterey, California; and Charleston, South Carolina. Casella notes that many of them are promoted in their dioceses after completing the certificate, given the rigors and the tailored nature of the program.
The program addresses the multiple roles and challenges specific to the Catholic school context. "These principals need a solid foundation of faith; an understanding of the Catholic Church mission and the mission and history of Catholic schools; and an understanding of vocation and ministry unique to the Catholic school principal experience," Casella says. "At the same time, they have to wrestle with challenges of stewardship — working with philanthropy and parish partners to ensure a financially viable and sustainable model, serving families with limited financial means, paying teachers a living and just wage, and providing a fully inclusive environment and excellent academic experience for students."
Each year, the program's cohort of approximately 30 students is split between dioceses across the country and those in California. Beyond the instructional material, members of the cohort benefit from the relationships they develop during the program. "It's both a faith-enriching network and a professional network," Casella says. "There is sharing of resources, whether it's prayer services or budget models. We now have principals serving both large and small dioceses around the country who continue to support each other beyond the completion of the program."
The certificate in Catholic school administration gets to the heart of SOE's social justice mission. "This is a clear and direct way we can serve communities that have so much to give by bringing them together to learn," Casella says. "And what's ultimately special is that the leaders who come from these dioceses are often the ones teaching us — about how to do so much to develop community and faith within their parishes despite limited resources. The learning goes in both directions, and that's really a joy."