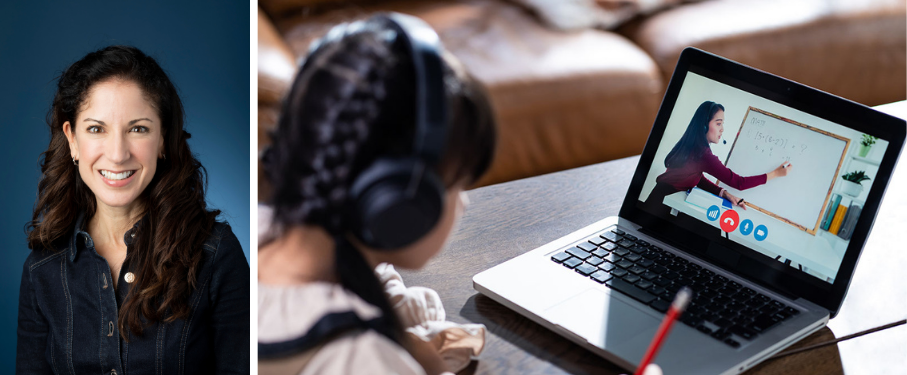 SOE faculty trained student volunteers to become virtual tutors for students from marginalized communities
An initiative launched in summer 2020 has become a win-win situation for LMU students looking to complete their service requirements and low-income families in Los Angeles who've struggled with online learning during Covid. The iTutors program, conducted in collaboration with L.A.-based advocacy organization Speak UP, allows volunteer tutors from LMU to receive online training and support from LMU School of Education (SOE) faculty as they work with primary- and secondary-school students who need extra help with assignments.
The program got off the ground when SOE's Terese Aceves, professor and chair of SOE's Department of Specialized Programs in Professional Psychology, was contacted by Speak UP. Aceves brought in LMU's Center for Service and Action (CSA) to coordinate the volunteer effort. "We saw right away that the idea had great potential," said Patrick Furlong, interim director of CSA.
Thirty LMU student volunteers served as tutors over the summer, working with their young scholars once a week for an hour each time. Veronica Backer-Peral, a junior at LMU, said being an iTutor was "one of the best experiences I've ever had. My high school student was excited to learn and worked so hard." This fall iTutors scaled up to assist hundreds of area children and their families.
Recent studies have shown that the digital divide affects marginalized communities most directly and promotes the reproduction of inequality (Prescott, 2020), and that trained tutors can help bridge the educational gap that is growing during Covid-19. "Families have told me the tutoring relationships with LMU students have been so helpful to their kids," says Tracy Grand, a program manager at Speak UP. "We're grateful for the expertise and collaboration that SOE and LMU have provided."