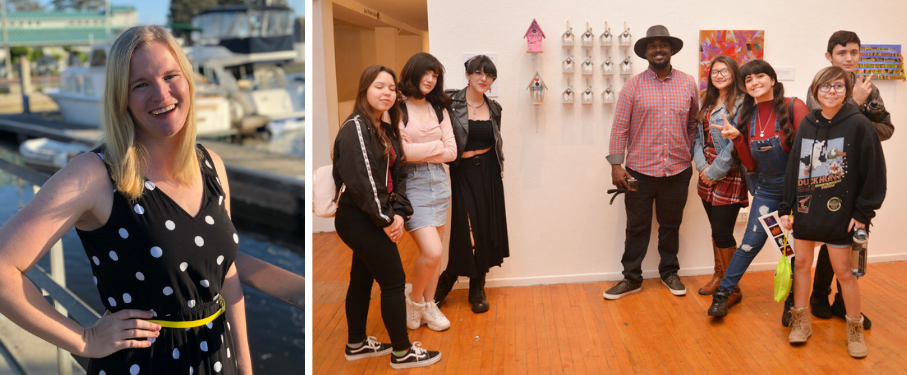 Brianna Angèle '20 led an arts workshop, presented a paper, and organized a peer-mentor training session while earning her credential
Wanting to get a taste of how working in her field would feel was a constant motivator for Brianna Angèle '20, who just earned her mental health counseling and PPS credential at SOE.
In fall 2019, she won a grant from the Los Angeles Department of Mental Health to conduct arts for mental wellness workshops for K-8 students at an after-school non-profit in Pomona, California. Students from the program displayed their artwork at the monthly Pomona Art Walk, while Angèle and fellow staff members engaged them and the community in topics around mental health.
She also led a peer-mentor training conference for more than 70 high school students from Downtown Magnet High School, a vocational school that serves largely marginalized communities. For the one-day conference, she organized 11 of her fellow graduate students to teach workshops about anxiety, relationships, depression, communication skills, and identity to students who'd expressed interest in serving as peer counselors through their school. "We got great feedback from the Downtown Magnet students as well as the LMU graduate students who took part in this service opportunity, which was really gratifying," said Angèle.
Angèle also presented research with Dr. Fernando Estrada of SOE at the Western Psychological Association conference on "Narratives by Master-Level Students on the Meaning of Foreign Language Proficiency and Recognition in Professional Psychology." The information presented is now up for review in a professional journal. The work, she says, has sparked conversations about how to train bilingual graduate students to counsel their clients, and how the field can better acknowledge the skilled work done by bilingual counselors.