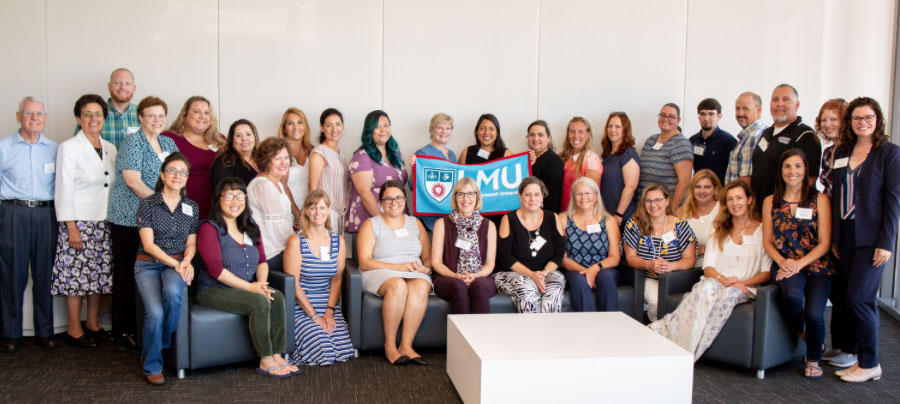 The LMU School of Education trains future teachers, administrators, counselors, school psychologists, and other professionals to deliver an excellent educational experience at any type of school to all students, regardless of race, ethnic identity, gender, ability, socio-economic standing, sexual orientation, and other factors. Diversity, equity, and inclusion (DEI) aren't just buzzwords to us—they form the very foundation of our identity.
Catholic school leadership requires the competencies associated with multiple roles and responsibilities to sustain and grow the school's program. The cultivation of future Catholic school leaders who possess the knowledge, skills, and dispositions to meet these challenges is a moral imperative that Loyola Marymount University seeks to achieve through this Catholic school leadership program.
The integration of faith and professional practice is made relevant through practical experiences that will prepare students to grow as a Catholic school leader. Studies in CCSA will focus on researching best practices in Catholic school administration and understanding the challenges and opportunities present in today's Catholic schools. Students will have access to the School of Education's expert faculty and to our vibrant Center for Catholic Education, ensuring that students enjoy a unique and rewarding graduate school experience.
Testimonials
The L.M.U. Certificate Program caught my interest has exceeded my expectations. The format works well for my schedule and I look forward to our weekly online classes. The course work and classes provide key ideas that I can put into practice immediately. I highly recommend this program for anyone feeling called into administration and leadership.
- Christina Clark, Teacher, Good Shepherd, San Francisco, California
The Certificate in Catholic School Administration program has impacted my current practice by opening my eyes to missing charisms in the school. It has also been helpful connecting with Catholic leaders from all over the country. This has been the missing piece in my leadership. - Cara Pribula, Principal, Thomas Aquinas High School and Middle School, Louisville, Ohio

LMU's Certificate in Catholic School Administration program provided me the skills and confidence that I need as a teacher to successfully interview and ultimately hired as the principal of my school. From the first day to the last, every LMU faculty member is there to help and guide you through the meaningful coursework and readings, while bringing real-life application to these assignments. The classmates you meet at orientation will be the constant colleagues and friends that will provide support for those tough days as an administrator. This was truly one of the best things I have ever done for my growth as an educator! - James Evans, Principal, Madonna Del Sasso, Diocese of Monterey, CA

LMU's Certificate in Catholic School Administration program has provided me a wealth of applicable information, new insights, and a supportive network of talented educators across the country. I have found the courses to be uniquely enhancing to my vocation in Campus Ministry and to my own spiritual growth. In particular, I am especially grateful for the intentionality, sensitivity, and relevancy of conversations surrounding diversity, equity, and inclusion so necessary in all of our communities of learning. In addition to the expertise of the professors, they are incredibly encouraging and will serve as mentors for your journey. - JP Ramirez, Campus Minister for Regional Service, Loyola Marymount University, Archdiocese of Los Angeles

As a new mother and new principal, this Certificate program has been the best form of professional development to help me grow as a leader in Catholic education, while not compromising my ability to remain an active parent and wife. - Mary Rose Batungbacal, Principal, Saint Mary's Academy. Inglewood, California
I would recommend LMU's Catholic school leadership program for those who are discerning or responding to the call to administration. The program provides a holistic approach where leadership is truly considered a call to serve Catholic education in a unique way. I have been impressed by the relevance of the program's coursework to address the needs of our time and the commitment to the future of Catholic schools. Both the instructors as well as participants seem to come with a needed spirit of servant-leadership that I have found very encouraging. - – Brother Chris Patino, FSC Director of Vocation Ministry at De La Salle Christian Brothers
LMU's Certificate in Catholic School Administration program is one of the most valuable experiences I have had in my professional life. In addition to providing me with the technical skills necessary to become a leader in the Catholic school community, this program also integrated the spiritual and emotional tools that make Catholic education unique and vital to its students. The connections that I made with Catholic educators across the country, through this program, have become the vital link to my continued growth as a leader in Catholic Schools. This program completely changed my view of Catholic education and the role I was called to play in it. - Gary Pulsipher, Middle School Science and Religion Teacher, Carson City, NV, Diocese of Reno
LMU's Certificate in Catholic School Administration program provided me with the tools to carry out the vocation that God has called me to serve. The quality of the education, the support from the professors, the support of my cohort of having connections to school leaders across the country has empowered me to feel competent and confident in answering God's call. - Alejandra Frutos-Silva, Dean of Academics/Support Specialist, Bishop Conaty-Our Lady of Loretto High School, Los Angeles
I would recommend the LMU's Catholic leadership program to those who are discerning the call to leadership. This program has given me a new perspective on what being a leader in Catholic education really means. It has also helped me grow spiritually and professionally. This program has given me the confidence and skills I need to be an effective leader. I highly recommend this program! - Claudia Monaco, 4th grade teacher, De La Salle School, Los Angeles

LMU's Certificate in Catholic School Administration program provided so much more than excellent coursework. Members of the cohort, professors, and guest speakers bring incredible, diverse prospective and are both energizing and inspiring. I would recommend this program to any Catholic school leader! - Laura Goodhard, Director of Admissions & Communication, Notre Dame High School, Diocese of Knoxville

LMU's Certificate in Catholic School Administration program provided me an academic platform and arena to discern my call to leadership. I have always been a Catholic School leader in my positions as Teacher and Campus Minister, but this program gave me the confidence to consider myself as a candidate for Administration. If you are being called to serve as a Catholic School Administrator, this program provides you with connections, current discussion in the educational leadership field, and confidence to take that next step in your vocation and service to Catholic Education! - Kendra Hart, Associate Director of Campus Ministry, Mater Dei High School, Diocese of Orange, California
LMU's Certification in Catholic School Administration program provided me with a network of Catholic School administrators across the country. The Certificate program has taught me the language of administration and the nine characteristics of a Catholic School and how we must continue to strive to improve in these areas. I would recommend the Certificate program to anyone who is discerning the call of leadership in their own lives. It has taught me that I have strengths and weaknesses, but I can still be an effective administrator if I surround myself with people that have strengths in areas where I am weak. -- Mollie Krueger, Middle School Director, Saint Joseph School, Diocese of Knoxville, Tennessee