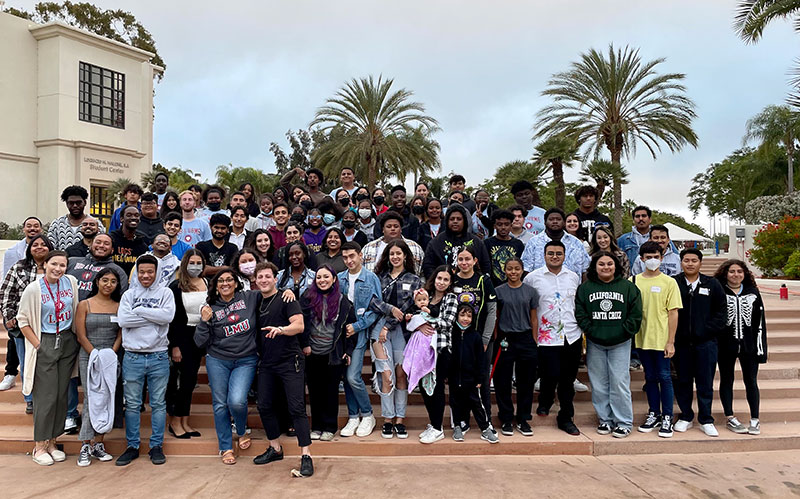 Following the U.S. Department of Education's $1.49 million funding of LMU's Upward Bound project last June, the department announced in August that Loyola Marymount University School of Education will receive a second federal grant of $1.49 million for its Upward Bound Math & Science project to help low-income students prepare for and enroll in college. The combined total of nearly $3 million will pay for both of these projects for the next five years.
Together with Upward Bound, Upward Bound Math & Science will assist more low-income students who would be the first members of their families to earn degrees to prepare for and enroll in college. Initially funded in 2016 to serve 60 students at Westchester High School, LMU SOE's UBMS will now extend its reach to include Inglewood High School. Thus far, the university's two Upward Bound projects have graduated 258 participants, with a college matriculation rate of 99 percent and a six-year college graduation rate of 71.2 percent, higher than the national average.
One of the Federal TRIO Programs, Upward Bound Math & Science is an intensive intervention program that prepares students for higher education through various enrichment courses and activities, with a focus on mathematics and sciences. At least two-thirds of the students in each local Upward Bound Math & Science program are from low-income economic backgrounds and families in which neither parent has a bachelor's degree. Like the Upward Bound project, it provides students enriched instruction in a variety of subjects, including literature, composition, mathematics, and science, during the school year and through an on-campus summer program. It also provides intensive mentoring and support for students as they prepare for college entrance exams and tackle admission applications, financial aid packages, and scholarship forms.
"While TRIO Programs were established in the 1960s to address educational inequities, there remains a need for initiatives that address systemic issues that result in continued barriers to access to and success in higher education," says Norma Romero, Ed.D. '20, project director for Upward Bound and Upward Bound Math & Science at LMU SOE. "We're excited about the opportunity to expand our reach into the Inglewood Unified School District, and to continue increasing the number of traditionally underrepresented youth in our local communities who graduate from college."
"We embrace this opportunity to expand our support for K-12 students in our own backyard in Los Angeles," adds Michelle D. Young, dean of LMU School of Education. "For more than 15 years, Upward Bound and Upward Bound Math & Science have had an excellent track record here of sending students to college who might not have gone otherwise. Under Dr. Romero's leadership, I am confident that we will continue to make these positive and lasting impacts on young adults and their families."
According to the U.S. Department of Education, 85 percent of Upward Bound participants enroll in postsecondary institutions immediately following high school graduation. In 2021, more than 13,000 students participated in 212 Upward Bound Math & Science TRIO projects throughout the United States and its territories.
In 1964, the Economic Opportunity Act established Upward Bound as a pilot program in response to the War on Poverty. It was the first of seven federal "TRIO" programs to later be authorized by the Higher Education Act of 1965 to help students succeed in higher education. It recognizes that students whose parents do not have a college degree have more difficulties navigating the complexity of higher education, bolsters students from low-income families who have not had the academic opportunities that their college peers have had and helps remove obstacles preventing students from thriving academically. As of 2021, over 3,200 TRIO projects serve more than 844,000 students yearly. TRIO projects are in every State and many U.S. territories.
"LMU is guided by our mission and seeks to provide all students the opportunity to receive an outstanding education—regardless of their background or socioeconomic status," says Thomas Poon, LMU's executive vice president and provost. "These TRIO programs bolster our support of students from historically underrepresented backgrounds, and further our mission to encourage learning and promote justice."