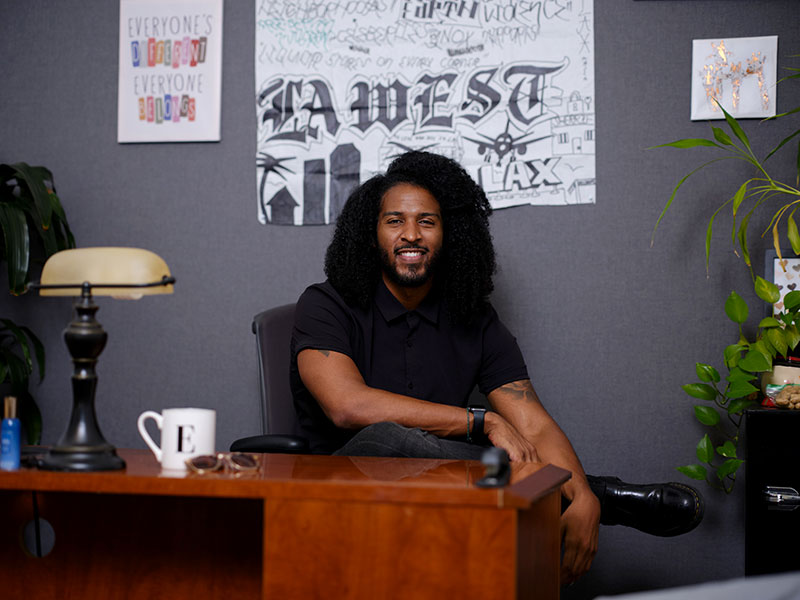 The students who attend Da Vinci RISE High School come from some of the highest-risk populations in Los Angeles County, including youth experiencing homelessness and housing instability, youth in foster care, and those in the probation system. Disproportionately, says Erin Whalen M.A. '20, educational, social-emotional and material resources for young people in such circumstances are severely lacking. As a result, many struggle with mental health issues such as substance abuse or post-traumatic stress disorder. A significant percentage are expelled from school or drop out.
Da Vinci RISE was developed to meet the academic, mental health, social-emotional and basic needs of these youth, says Whalen, an assistant principal when the program was established in 2016 and currently RISE's executive director. The model has been a resounding success. RISE was one of only 10 schools in the nation to win a prestigious "Super School" grant to reimagine high school, in connection with the nonprofit XQ Institute. RISE also received national recognition as the first alternative school to be named one of Teach For America's Schools to Learn From.
"Many of our students came to us after being out of school for multiple years, some of them having been expelled from other schools," Whalen says. "They have had significant disruptions in their lives that often lead to their dropping out. There's nothing better than to see these students graduate and go on to amazing institutions and successful careers because they've been believed in and supported."
Da Vinci RISE serves between 50 and 125 students at each of three sites, all of which are co-located with wraparound social service providers who act as RISE partners. These include the South Los Angeles campus at A Place Called Home, a community-based nonprofit with arts, education and wellness programs for young people; a Hawthorne site in partnership with Richstone Family Center, which specializes in treating and preventing child abuse and trauma; and RISE at New Earth in Culver City, which provides mentor-based arts, educational and vocational programs for juvenile justice and system-involved youth. The partnerships give RISE students access to counseling, case management, tutoring, job readiness training, extracurricular opportunities and more.
Developing a school for the population RISE is meant to serve required taking into account the challenges faced by the students and their families. "We knew we had to offer flexible scheduling to allow our students to take care of some of their more basic needs," Whalen explains. "Whether it's having a job to support their need for food and shelter, or taking care of probation appointments or court dates for foster care, these students tend to be the least stable in terms of consistent attendance. We have deemed ourselves a hybrid independent study school, with no penalty for missed seat time, although many of our kids come in multiple days a week for education and resources."
Those resources include an in-house mental health team staffed by a school psychologist, counselor, case managers, behavior interventionists and a coordinator who focuses on partnerships and school-wide support services for the students. The school collaborates with a network of youth-development agencies, educators, municipalities and social-support centers in an effort to break through systemic silos. All RISE staff members receive extensive training in trauma-informed care. Basic needs are provided in the form of meals, transportation and school supplies.
But Whalen stresses that RISE goes beyond meeting its students' most basic needs. "We believe our students deserve an equitable education that is mastery based and engaging, as opposed to rote memorization," he says. "And so we're really pushing education into the competency, project-based world with the kids who see that least."
Whalen's commitment to ensuring high-quality, holistic education for disadvantaged groups stems from his own experience growing up in Los Angeles as part of a proud Black, Chicano, and Indigenous family that faced financial hardships. "My mother went to schools where she felt she was not being affirmed for the person she was, and so she did everything she could to get me into some incredible institutions where I was able to spread my wings and go through a process of self-realization that isn't very common for folks like us," Whalen says. "I realized at a young age that that's not how the world should be. It made me want to better understand how oppression undergirds education, and how I could be part of changing that."
He began his career in education as part of Teach For America in Miami before returning to Los Angeles in 2015 to work at Da Vinci Schools. As Whalen moved up the ladder at Da Vinci RISE, advancing from assistant principal to principal, he decided to pursue his master's degree at the LMU School of Education's Institute of School Leadership and Administration (ISLA). "It was an incredibly powerful experience," Whalen says. "Everything I did in class was relevant to the work I was doing. Every conversation felt electric because it was about things I was facing at that moment."
In his role as a fieldwork instructor for current ISLA students, Whalen shares the lessons he's learned both through his SOE education and from his experience overseeing Da Vinci RISE. "I've seen too many teachers get burned out because they see all of the trauma and inequities affecting their students and are told there are no resources to solve it," he says. "But what if we gave teachers the tools to make a difference as mentors and guides to these students, with a tool belt of resources to support them? RISE is on the forefront of rethinking education, and doing it with the kids who are most at risk at the center of our efforts. That's very rewarding."