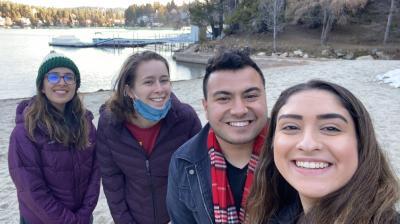 Partners in Los Angeles Catholic Education (PLACE Corps), established in 2001, is a nationally recognized teaching service corps. PLACE Corps is built upon three pillars – professional development, intentional community living, and Ignatian spirituality. Program members serve as teachers in primarily under-resourced Catholic schools through a two-year cohort program, earning a master's degree and a California preliminary teaching credential, while living in faith-filled communities. Candidates have the additional option of obtaining catechist certification.
To date, more than 80% of program alumni have remained in education, serving thousands of school children. A number of alumni have gone on to doctoral programs, have committed to religious life, or have moved into school and diocesan administration. Clearly, PLACE graduates leave the program as focused and driven educator leaders who continue to make a lasting impact on PreK-12 education, creating a PLACE legacy in Catholic education.
Program members live together in intentional communities, comprised of members in their first and second year of the program, a strategy that fosters further support of incoming members. In addition, a significant number of alumni continue to teach at their school placements and give back to the program by serving as mentors at the school sites.