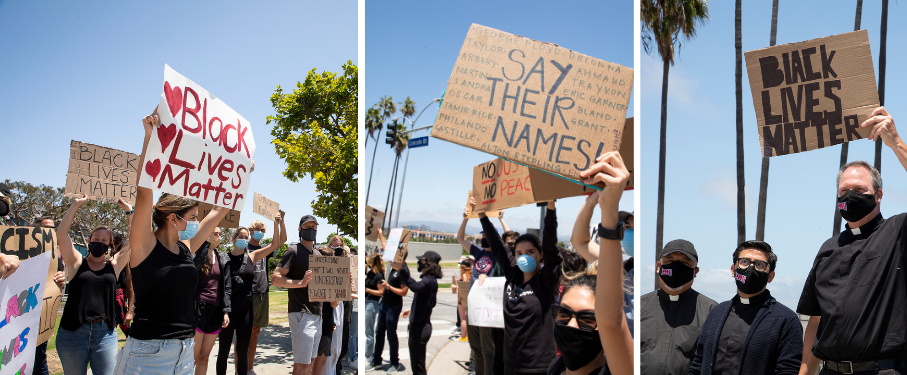 The SOE is a learning community committed to social justice, equity, inclusion, and diversity. Our commitment to social justice has two principal sources: (a) Our institutional grounding in the Jesuit, Marymount, and Catholic traditions, and (b) Our tradition in critical education. These sources encourage us to participate in a parallel process of creating conditions and outcomes that foster justice at the University level and ensuring that future teachers, counselors, leaders, and the like are equipped to facilitate justice in their schools, communities, and organizations. To foster such conditions, the SOE has established the Diversity Action Committee (DAC) as a standing committee.
Mission
The mission of the DAC is to collaboratively lead, design, and coordinate equity, inclusion, and diversity-related processes and programs for the LMU School of Education that are consistent with the SOE's core values and beliefs, as well as the University's commitment to reflection and anti-racist action as articulated by President Timothy Law Snyder in his message Beyond Words.
The DAC will work closely with the SOE's Leadership Team to foster the schools' diversity and equity mission. Our key aims are fourfold:
to foster a stronger understanding of social inequities and historical forces of oppression
to investigate systemic forms of racism and oppression
to reduce institutional barriers for people of color and other marginalized groups
to foster an inclusive culture in which all faculty, staff, and students can reach their full potential.
Membership
SOE's DAC consists of:
Four faculty members
Two staff members
Two student members
Two co-chairs
The Dean appointed the first group of DAC members, including the two co-chairs. The appointment process will involve recommendations from the faculty and advisement from Associate Deans and Department Chairs. The inaugural term will be for a period of two to three years, with half the members serving two years and half serving three years. The committee will make recommendations for member terms going forward, including a plan for overlap and transition. Committee chairs or co-chairs must be a faculty member(s) of associate rank or higher, either clinical or tenure-line, and will serve as Chair or Co-Chair for a period of one year, with an opportunity to extend for an additional year.
Plans and Goals
The DAC is establishing a 3-year plan for actions and outcomes with indicators of measurable progress, including (but not limited to) the following:
The DAC functions as a resource and planning group, examining SOE policies and practices related to faculty, staff, and student hiring, admission, recruitment, review and retention, professional learning, curricular reform, program development, and recognitions. The DAC will establish clear goals, guidelines, and measurable outcomes in these areas.
The DAC functions as a resource for the SOE leadership team and community in developing responses to current events and ongoing needs at the community, state, national, and international levels that reflect sensitivity, cultural awareness, and respect, and are aligned with the SOE organizational mission, vision, and values.
The DAC takes a leadership role in organizing diversity-related SOE community learning activities, such as a "common read," workshops, programs, and lectures to make sure diversity and equity issues are integrated within all aspects of the SOE and that all community members can participate.
During the academic year, the DAC meets once per month as a formal business/planning meeting, and twice per semester as an "assembly" or "dialogue," open to interested faculty, staff and students to gauge the "pulse" of the LMU SOE community, solicit ideas and feedback on diversity issues, and advance new initiatives and actions pertaining to diversity.
The DAC will serve as a space for "courageous conversations" around issues of equity, diversity, and social justice. Faculty and staff may approach this group with issues or concerns. The DAC will hold open meetings at least once per semester to offer conversations with interested faculty, students, and staff in a safe space.
The DAC will report to the Dean's cabinet of SOE at least once per semester, bringing new initiatives and important insight. The DAC will also report to SOE faculty and staff at least once per semester, thus enabling diversity to become well-integrated into the governance structure within SOE.
The DAC will interact with University diversity-related groups, will stay abreast of University initiatives and policies impacting diversity and equity, and will share pertinent information with SOE faculty, staff, and students.
The DAC will help facilitate the development of a graduate student organization in SOE or LMU to encourage their voices and leadership on diversity and equity issues. The president of this student organization will also be a member of the DAC.